ECOCELL-US-BUILDING-SYSTEM
NEW BUILDING-SYSTEM with ONLY ONE NEW ELEMENT:
the ECOCELL
ECOCELL has developed a revolutionary and simplified quick assembly system based on license requests from the USA and thus has also applied for a patent.
The new technique impresses through the fact that it only requires straight-cut ECOCELL HONEYCOMB-CONSTRUCTION-BOARDS in a few standard sizes.
Apart from the HONEYCOMB-CONSTRUCTION-BOARDS, all other building components required are already available everywhere on the market.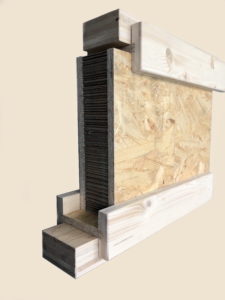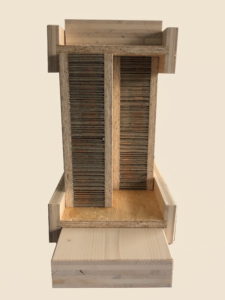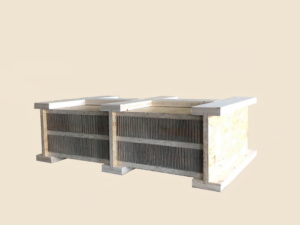 Apart from the new ECOCELL HONEYCOMB-COMPOSITE-BOARDS, all other materials needed for the ECOCELL-US-BUILDING-SYSTEM are already available on the market. For instance:

I-Joist
I-joists are strong, lightweight, "I" shaped engineered wood structural members that meet demanding performance standards. I-joists are comprised of top and bottom flanges, which resist bending, united with webs, which provide outstanding shear resistance. The flange material is commonly laminated veneer lumber (LVL) or solid sawn lumber, and the web is made with plywood or OSB. The robust combination of structural characteristics results in a versatile, economical, framing member that is easy to install in residential and light commercial projects.
Questions about ECOCELL-US-BUILDING-SYSTEM 
How would wiring/plumbing/vents work in the US system? 
For electrical installations we use cable canals. Such channels or conduit systems can be placed into the ceiling elements in combination with the CONCRETE-HONEYCOMBS. LED lights can also be pre-assembled directly into the elements.
There are pre-wall installations for plumbing and sanitary installations. The ECOCELL FAST-BUILDING-SYSTEM can also be used for pre-fabricated installation walls or modular sanitary modules.
How do you finish interior walls/surfaces?
In the previous system, let's call it the European FAST-BUILDING-SYSTEM, we provided the elements with a finished surface, normally a visible wood surface.
We assume that in the US, the ECOCELL-US-BUILDING-SYSTEM, will more than likely be overlaid or doubled up with gypsum boards. The space in between can be used for electrical installations.
Is OSB always used on all panels? Is there a less expensive alternative for interior walls?
We believe that OSB is the best choice as a raw material for the ECOCELL FAST-BUILDING-SYSTEM, since it can be used to create load-bearing constructions.
For non-load-bearing partition walls, especially those with fire protection requirements, we use magnesium oxide boards. The partition wall system can be distributed directly through DIY stores.
Have you done any R-Value analysis? (For example: fiberglass insulation having a R-13 value in a standard wall thickness)
We've not only done various test on the material, but have also tested the thermic and acoustic values of our product.
A special aspect of the ECOCELL-SYSTEM is, that the honeycomb gaps can be filled, as is necessary, to meet the highest thermal and acoustic requirements. This is possible due to the higher wavelength of the corrugated cardboard.
What about sound absorption analysis?
Normally the basic panel itself is laminated with 15mm thick OSB boards on either side. The sound absorption coefficient can be substantially improved by applying a material, which has a higher density e.g. gypsum boards.
Have you thought about "kits" for standard structures (storage buildings, garages, etc.)
Yes – we also thought of this. We are currently in the process of developing the idea of construction kits for the very popular 'tiny house' concept.
How do you handle a house with a "crawl space"?
The underside of the crawl space should have a water repellent and fire-retardant coating.
We are happy to answer any further questions
US residential construction market
US construction business represents a huge potential over the next decades, in particular the private residential construction.
Nevertheless, the construction industry is facing several challenges, which will gain ever more momentum.
ECOCELL can provide a major contribution to all of those challenges: sustainability (green and circular economy), costs, labour shortage, profitability, also, with ECOCELL modular design, a unique technology.
If we consider that ECOCELL could gain a market share of about 5% of the fast-growing US building market, it would represent a market of $40 Billion in the next five years and would therefore be a very quick return investment required to be put in place in the US, for the production of ECOCELL modules.
Link: US Residential Housing figures
Link: US Construction Figures
What are Structural Insulated Panels?
Structural insulated panels (SIPs) are a high-performance building system for residential and light commercial construction.
The panels consist of an insulating foam core sandwiched between two structural facings, commonly being oriented strand board (OSB).
SIPs are manufactured under factory-controlled conditions and can be fabricated to fit nearly any building design.
The result is a building system that is extremely strong, energy efficient and cost effective.
Building with SIPs will save you time, money and labor.
What is the big difference between normal Structural Insulated Panels (SIPs) and ECOCELL-SIPs?
Regular SIPs have petroleum-basedfoam insulation as a middle layer. With ECOCELL–SIPs, this middle layer consists of CONCRETE-HONEYCOMBS.
The ECOCELL CONCRETE-HONEYCOMBS are fire-retardant, unlike the foam insulation and therefore do not consist of petroleum-based substances and are also statically solid in their composite.
The ECOCELL–SIPs can therefore be used as construction boards with high static values for the construction of the entire house (floor, wall, ceilings and roof).
In addition to the connection system developed by ECOCELL, using I-joist, a new low-cost FAST-BUILDING-SYSTEM has been developed by ECOCELL which has applied for a patent, which is pending.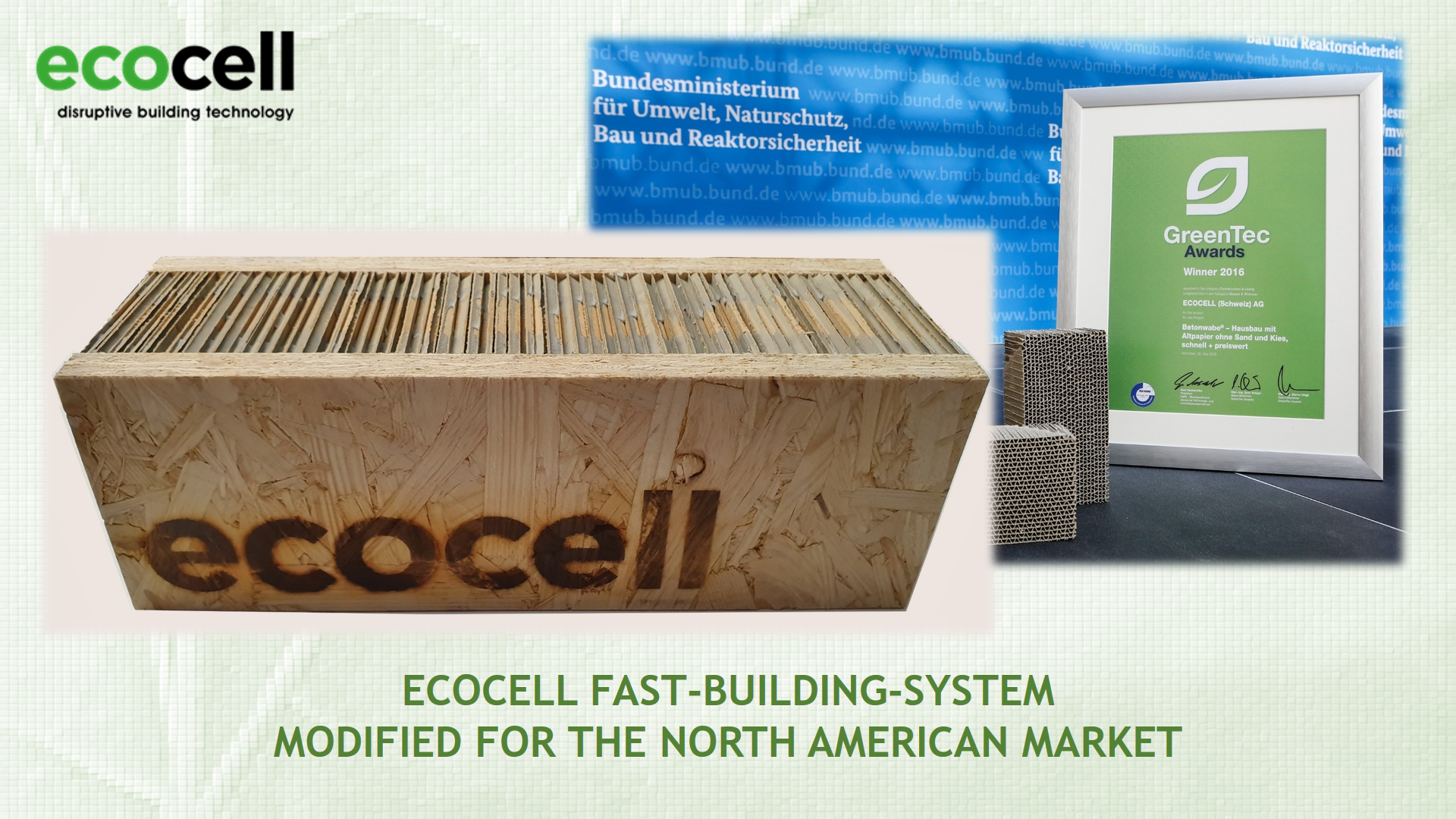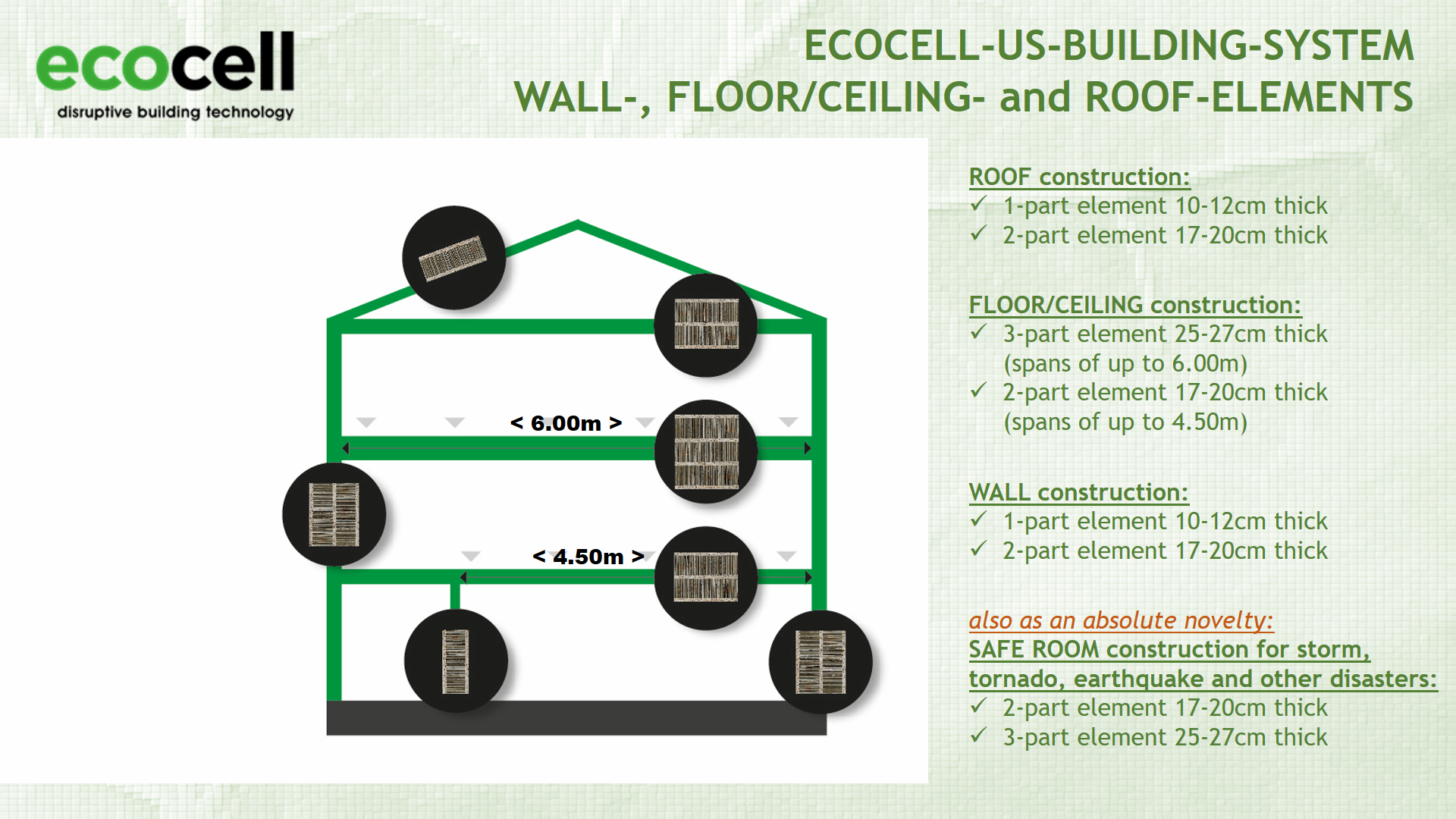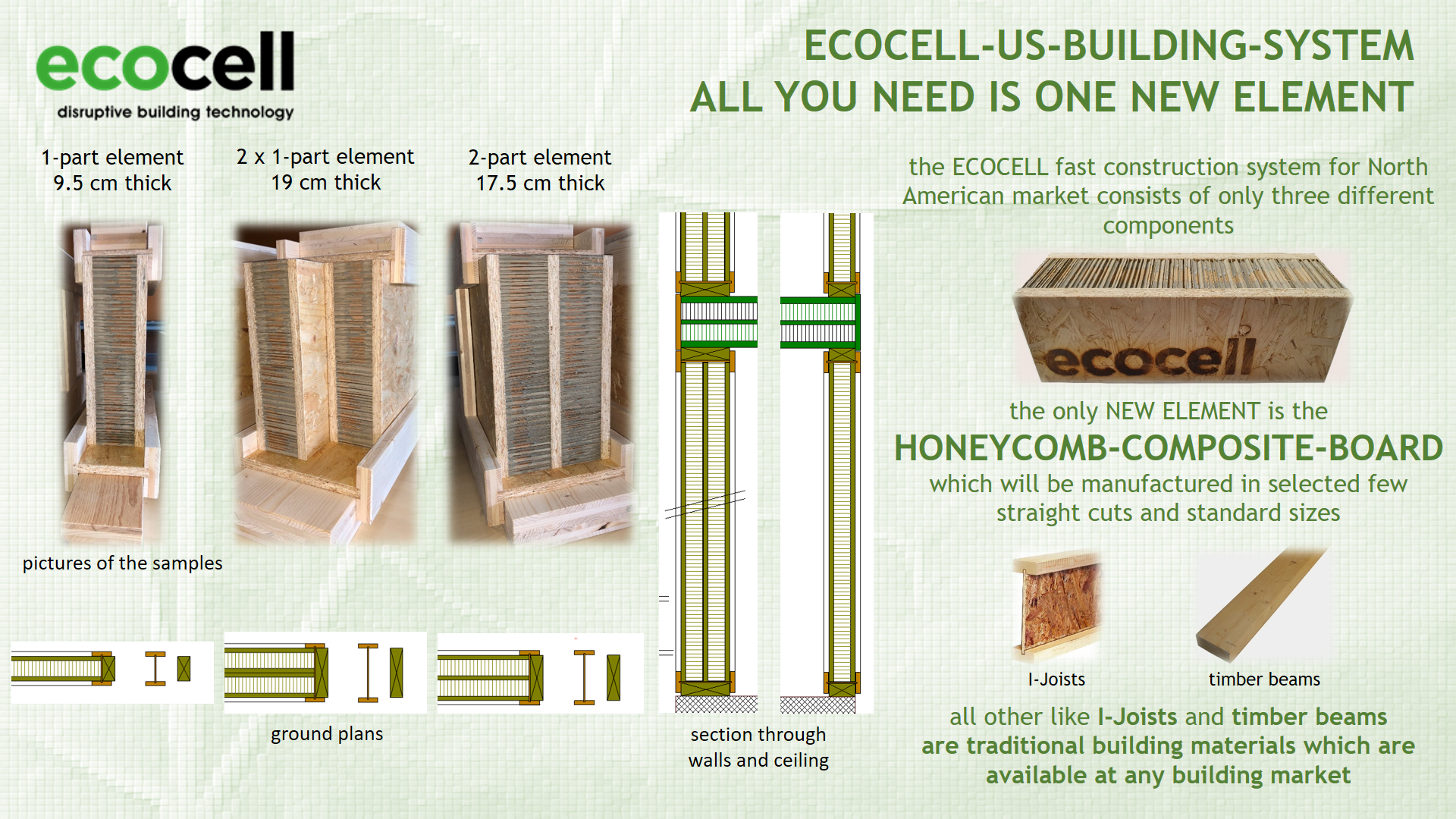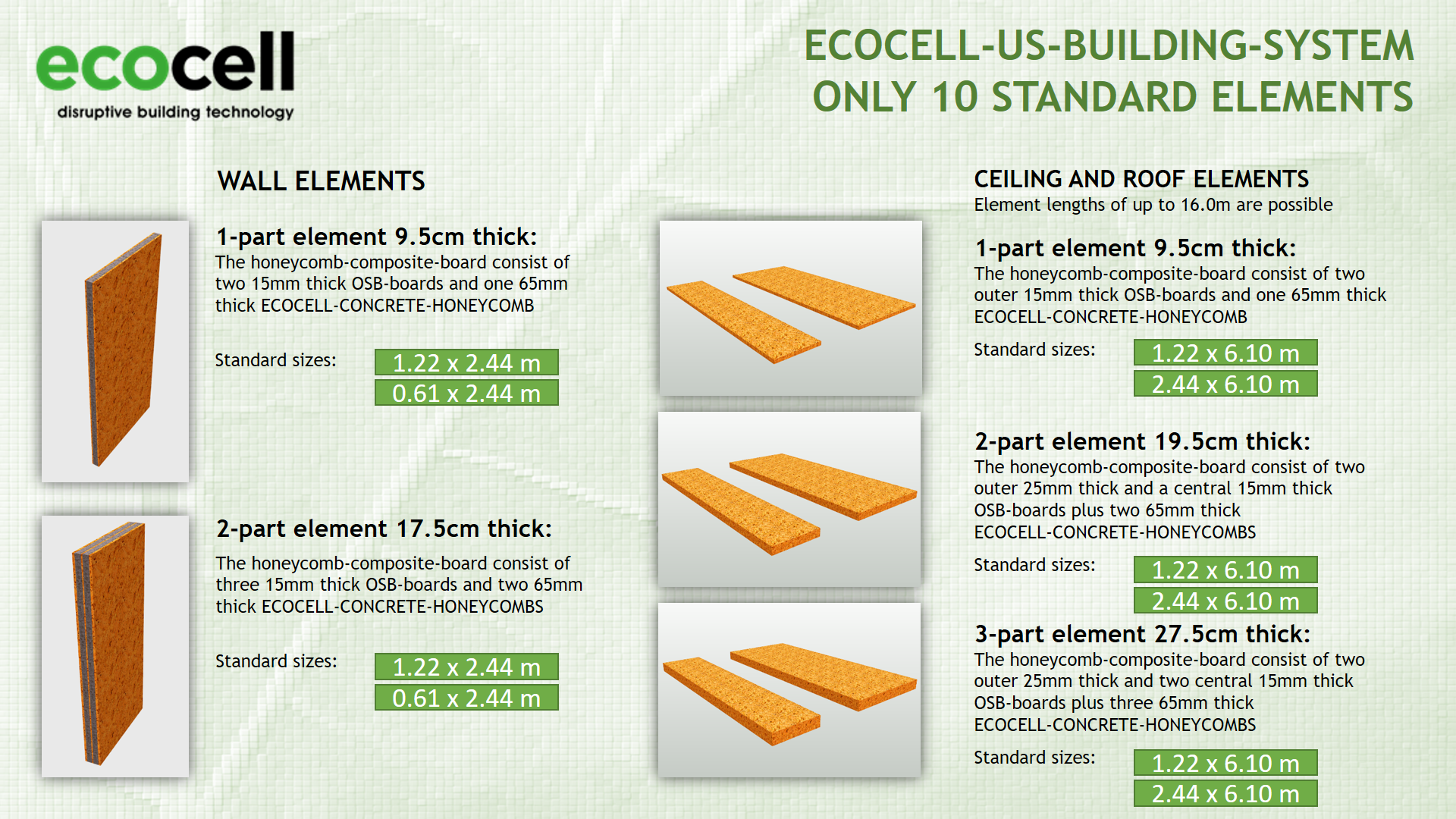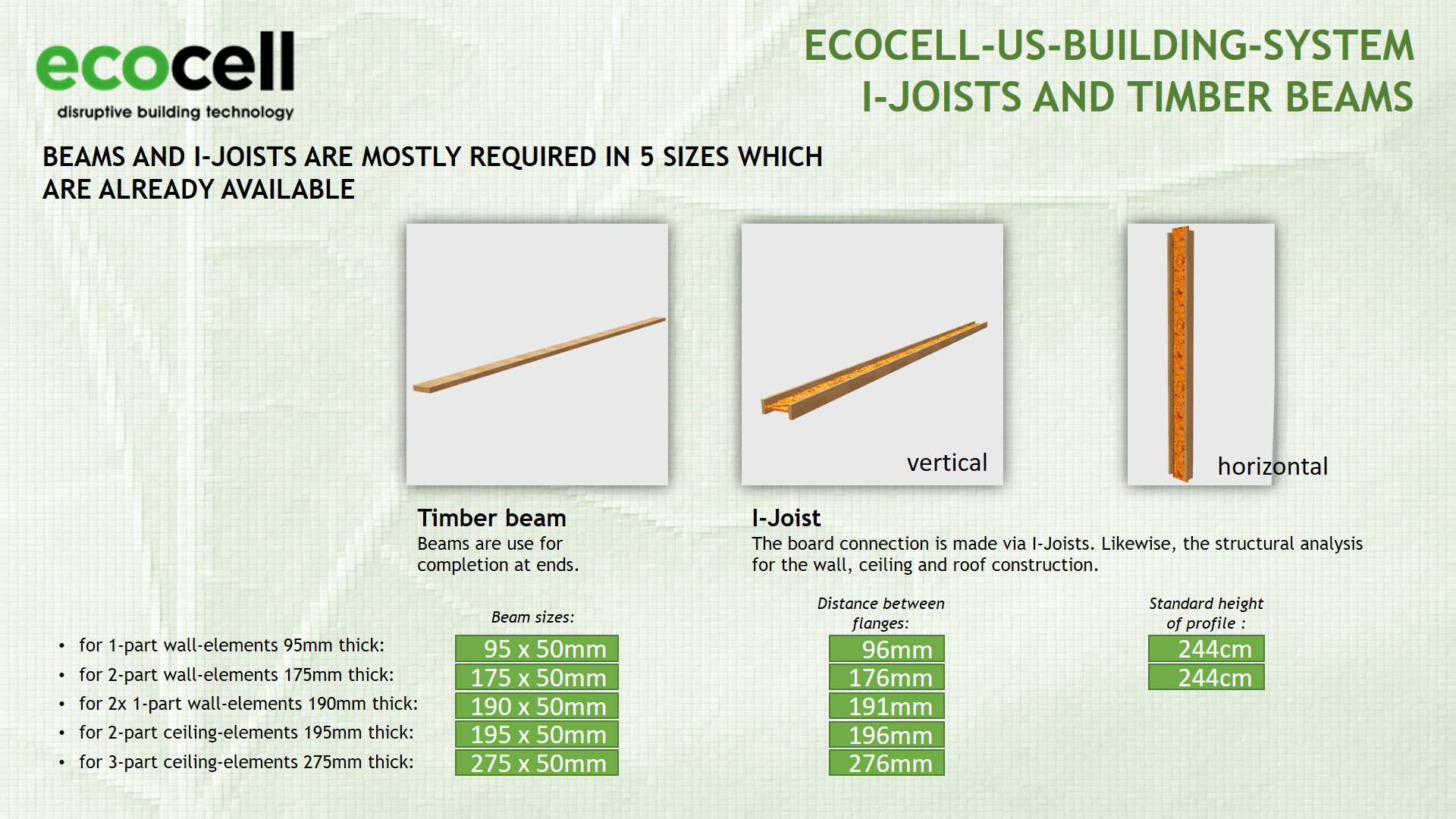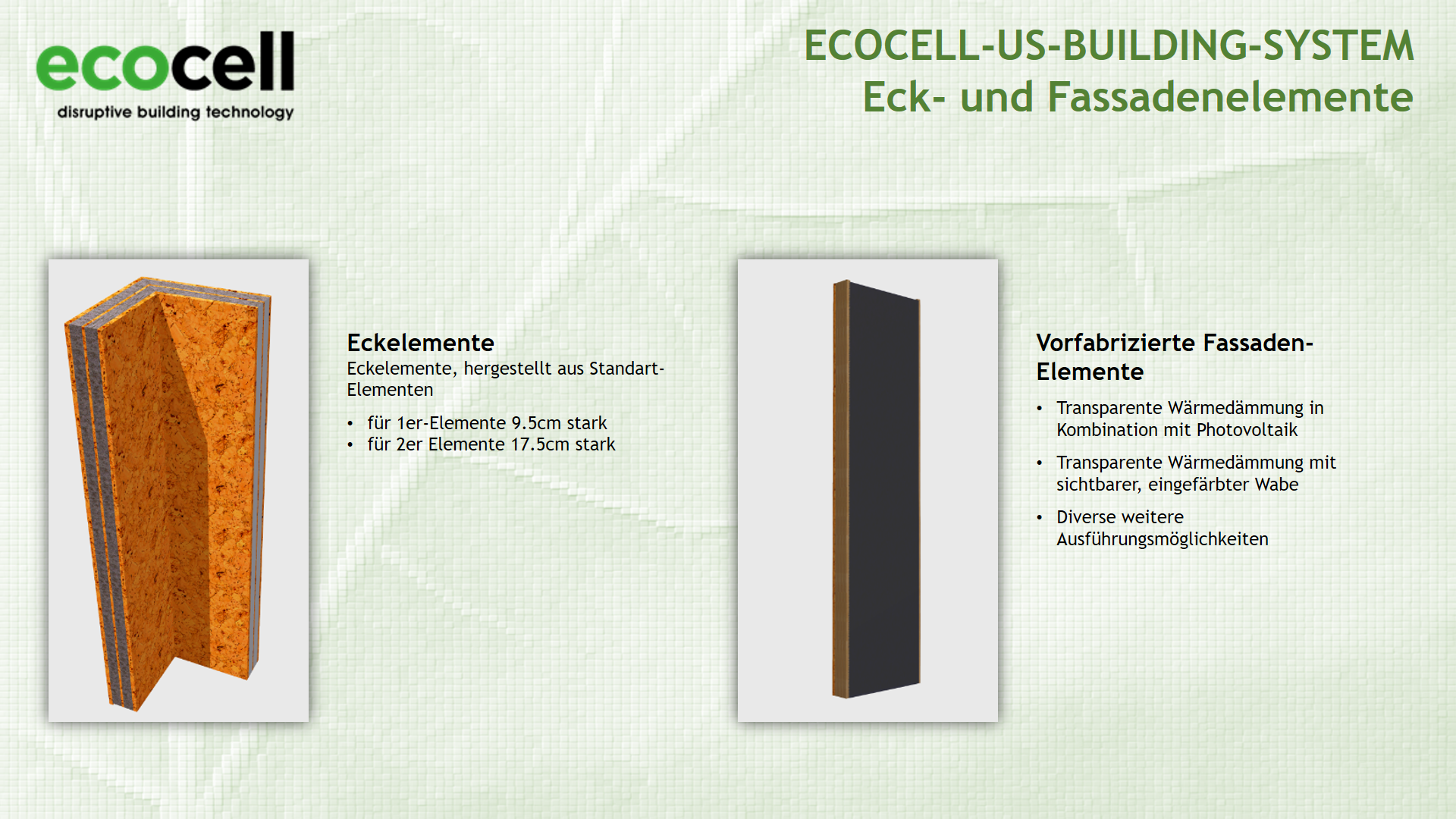 Klicke hier, um Ihren eigenen Text einzufügen
Klicke hier, um Ihren eigenen Text einzufügen